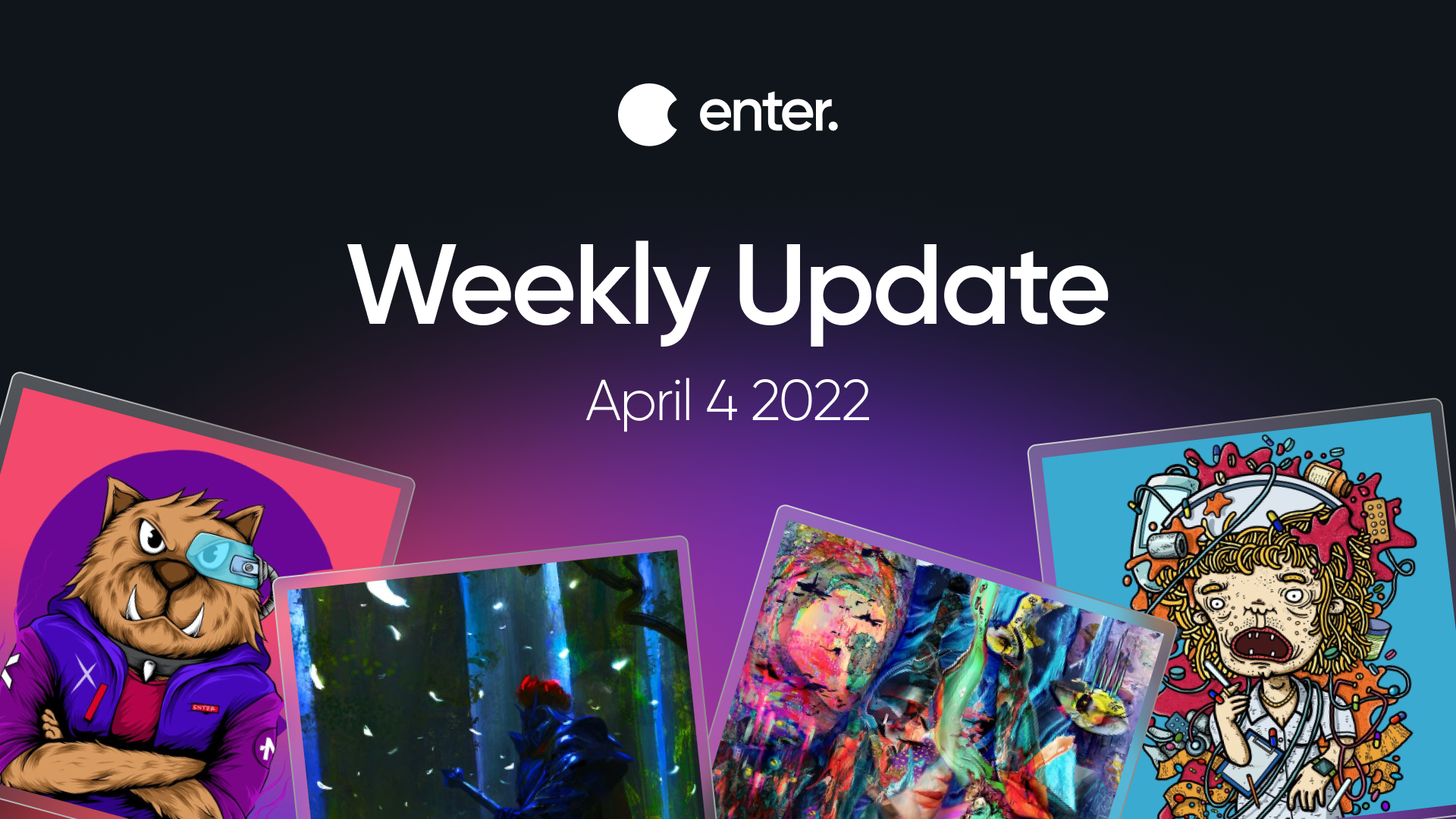 Weekly Update #26
Monday April 4
@enter.art
PUBLISHED 4TH APRIL 2022
Artworks in header by @sandikasiltawa, @yona, @indira_iofeye & @bondzai



GM 👋
This week was a busy one in the enterverse, and we had tons of things happening!
The latest news from the enterverse is that $NFTART joined the DIBS PARTY with dibs.money.
We now have an $NFTART farm with rewards in $Dshares.
As always you should DYOR and educate yourself before investing in any project.
We were also so happy to officially announce that we are bringing the whole enter.ecosystem multi-chain. We have already gotten tons of support from the enter and Avalanche community on this decision, and are currently establishing partnerships and collaborations with Avalanche and projects building on the chain. We are looking forward to embarking on this journey which is a huge step for enter.



📈 Milestones & stats
enter
Announced multi-chain & enter.market
17000 users

Close to 6% of all NFTs on the Binance Smart Chain are minted on enter (5.7M of 100M)


$NFTART
Increased in volume: Last 7 days 20% Last 30 days 100%
7 day price increase: 22% 30 day price increase: 40%

Reached 448 000 Holders

71% of the $NFTART token supply burnt

Liquidity increased a lot across all $NFTART markets, 80% increased liquidity in PancakeSwap V2 - From 88 BNB to 162 BNB



✅ Company news
Welcome Rasmus as CMO of enter! Check out the @enterNFT Twitter for a short introduction video of Rasmus and what he will be working on in the coming time.
We're excited to soon announce several new partnerships!



✔ Development update
enter.market
Will be released soon. We decided to postpone the launch to get some extra testing done.
"We need to get some more testing done. enter has grown larger, more complex, and requires a more thorough testing routine than we have had in the past. No one ever got hurt by using any of our platforms, and we'd like it to stay that way."
Find the full statement here: https://twitter.com/Kimat0shi/status/1509450570704338945
We are working hard to execute the launch as fast and as safely as possible, and will update you through social media and Discord when we have settled on the exact launch date. We are looking at a week or two of extra work on the development side, and our amazing team is doing their best to minimize the wait.
Meanwhile we have opened applications for whitelisting of external collections, and encourage NFT projects on BSC & Avalanche to apply to get whitelisted so we can showcase your collection from launch!
enter.art & .audio:

New ambassador introductions coming this week.

Art and audio events coming up!



👥 Community development
Spring is in full swing! Let's see your artistic side, participate in our spring/pastel themed art/NFT contest later this week.

We're closing in on 600 members in our Facebook group! Keep an eye out for a giveaway over there this week.



📖 Blog posts
There is a lot happening in the enterverse these days, and the last week on enter.blog has been dedicated to highlighting some of our current and upcoming news.

Make sure to stop by this article to get all the juice on our upcoming platform enter.market:
https://www.enter.blog/@enter/entermarket

And this article highlighting the new $NFTART farms with dibs.money, where we've covered everything from how to why, and what to be aware of when farming:
https://www.enter.blog/@enter/nftart-staking-and-farming-with-dibsmoney



✨ Art Highlights
Being Alive - A Love Letter To Human Anatomy by Skullartbasuru
Glitch Virus Collection by Luvcraft & Squid Hell

Chickys star by Ferderblue

Arisal of the new worlds by Indira IofEye

Striped Rock by Jan_bora

Weirdo Boy by Keyoveride



_
All the best from the enter team
News from the enterverse
Wondering what the state of the enterverse is? Here you can stay up to date on the latest developments and news from enter.
View all